Professional
Experienced
Quality Sound
Remote News Service broadcasters are the best in the industry. We have experience with all radio formats and have more than 50 years combined on the air. We are a professional and dedicated team who makes sure you get the best for your listeners. Whether you're a Talk station or Adult Contemporary Music or Rock, we have you covered. If you need a quick headline package or 5 minutes including sports, weather and traffic, we can deliver on time, every time with our professional remote news anchors.
Remote News anchors can also fill in, in a pinch. Perhaps your regular anchor wants a much-needed vacation or they call in sick. Think of us as your "Rent-An-Anchor" service. We only need 3 hours notice! We provide fill-in, part time and full time news reporting and anchoring services.
Lesley Lotto
President /Founder
Lesley Lotto created Remote News Service after one too many small market moves across the country. She's worked in the entertainment industry for more than 30 years as a talent agent, talk show host, podcaster, news reporter and anchor. Her combined experience in the music, film, TV and radio broadcasting industries gives her an unparalleled level of experience in the field. Lesley's passion for news reporting led to network anchoring opportunities for TRN's "America`s Radio News", the Blaze Radio Network, where Lesley helped start the 24/7 short form news operation for Sirius/XM Patriot, Fox News Headlines 24/7 also on Sirius/XM, and currently at Bloomberg Radio as a freelance Business Reporter/Anchor and weekend anchor for Bloomberg's WBBR in New York City.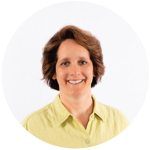 Claire Beverly
Lead Anchor/Network Liaison
Originally from Toledo, Claire has been a News and Traffic Anchor for over twenty years, in every corner of the mainland U.S., from Los Angeles to Savannah to Seattle to Boston. Before working in radio, Claire worked in professional theatre as a stage manager and still loves the performing arts so she volunteers to help kids with it when she can. She has two cats and two dogs and is a huge sports fan, especially of her beloved Detroit Lions, which should tell you something about her loyalty and ability to rise above disappointment. Claire also likes running, bike riding, board games, SciFi, and crossword puzzles.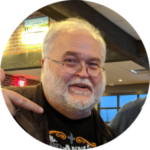 David Denton
Anchor Teammate
David Denton started his radio life in Memphis, Tennessee, while still in high school. Over the years he made several moves for radio jobs to Idaho, Arkansas, Louisiana, Missouri, and a final stop in Logan, Utah. Now retired but still loving radio, he anchors part time and hosts three podcasts: Radio Guy Reflections, Three W News, and Turnbuckle Trash.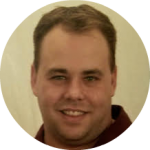 Eric Sharp
Anchor Teammate
Eric has been in love with radio for over 20 years. He has been both a program director for iHeart Media and an on-air show host in Texas and Tennessee. Eric currently does live and pre-recorded news casts for top stations in markets such as San Antonio, Houston, and New Orleans. His local stories have been featured nationally on FOX News and ABC News Radio.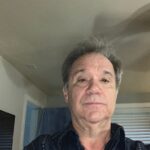 Bill Robbins
Anchor Teammate
Bill started out as a music major, but ended up graduating with a degree in Communications, Radio & TV. After an internship at an oldies station, Bill made a slight adjustment to his trajectory. He learned about production, imaging, working as an air talent, and news. After a long time producing his own 80's lunch show, Bill ended up doing news, writing, production, and anchoring, on 610-WIOD in Miami. And now, I'm here working with a new crew of talented people.

Jerry Lademan
Anchor Teammate
Jerry's broadcasting career began while attending Syracuse University and has continued through the years in radio and television. Most recently, Jerry served as Assistant Director of Operations and air talent for Metro Networks/Westwood One in Philadelphia. He is an award winning journalist who's also worked as a news director in several markets including Washington, DC, covering events ranging from political conventions and presidential elections to local issues.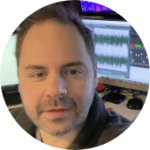 Jon Demaster
Anchor Teammate
Father to 4 beautiful children, a midwest native, and lover of news. Jon grew up on a 150 year old dairy farm along the shores of Lake Michigan in Wisconsin (we love our Packers, and our Cheese). He also grew up with a microphone on the desk in his bedroom, the brown Fischer Price Tape Deck (you know, the one with the handle), a camcorder on his shoulder, and never stopped talking. In 2001, while installing telephone systems at a radio station, he saw the afternoon DJ interacting with listeners on the local top 40 station and asked the Program Director if he could try it. After getting a chance at the coveted "weekend overnight" shift, Jon moved to middays on the heritage Hot AC station in the market. After a few years of "talking for 10 seconds between songs" he says he got hungry for more, and asked the news director if he could help him on the weekends. From there, the news just kept getting better and better, working with some amazing people along the way!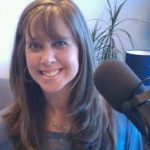 Kristie McIntyre
Anchor Teammate
Talked into joining her High School radio station on Cape Cod when she was 15, Kristie first discovered her passion for all things that require a voice. While studying vocal music at DePauw University in Indiana, she helped run her college station during the school year and spent summers at home talking up records on the local Top-40 station. She went on to work at stations in markets including New Bedford, MA, Boston, Indianapolis, Baltimore, Washington, DC, New York City and has been heard across the globe on Voice Of America Europe. Kristie still enjoys singing and has performed the National Anthem at Washington Nationals and Baltimore Orioles Games. She lives in Virginia with her husband, runs a voice over business from her home studio, has two grown children and two cats- one bald and one not (the cats not the kids!). She loves traveling and has been to all 50 states.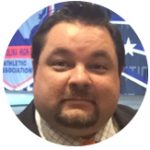 Patrick Johnson
Anchor Teammate Patrick Johnson has worked recently hosting the top-rated "Patrick Johnson Show" during afternoon drive in Greenville, NC for 94.3 The Game. Previously, Johnson was the morning drive host on heritage station WPTF in Raleigh, NC, an anchor on the NC News Network, and reporter/anchor on WDBO in Orlando and correspondent with ABC Radio News. The native North Carolinian has also worked as a play-by-play announcer for Learfield IMG College, Time Warner Cable Sports Channel, SiriusXM, The Heritage Sports Radio Network, MASN (Mid-Atlantic Sports Network), The ACC Network and NFHS Network, among others.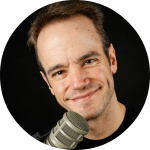 Adam Boardman
Anchor Teammate
Adam has two radio "loves" – News and Rock – and he's been doing both of them for more than 25 years. He started his news career at the legendary WHAM in Rochester, NY, while continuing to do rock and talk shows at his college station. He then moved "west" to Buffalo to rock WEDG and host Loud!, the Citadel Network's new rock show. After relocating to Raleigh to become rock outfit WBBB's Night DJ/Assistant Program Director, he went across the street to anchor news for iHeartmedia's North Carolina stations and host afternoon drive on Raleigh's heritage rocker, WRDU. He also plays drums and, much to the worry of his wife, hangs out with other drummers.
Susan King
Anchor Teammate
Susan King has over 20 years of radio broadcasting experience working as a news anchor, reporter and on-air personality. Her voice has been heard on stations around the country including in the cities of Atlanta, Chicago, Denver and Los Angeles. Susan also served for five years as a licensed pastor in the United Methodist Church. Susan is married with two beautiful daughters and is an avid tennis player and fitness buff.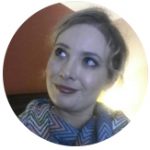 Nikki Whaley
Anchor Teammate
Nikki Whaley has over 10 years of radio broadcasting experience working as a news and traffic anchor and reporter. Her voice has been heard on many heritage stations around the country, including in top radio markets of New York City, Atlanta, Chicago, Washington D.C.,San Francisco, Dallas and Los Angeles. In her spare time, Nikki hosts her own podcast with her husband and voices audio books and commercials. The couple have a house full of animals, including three cats and a dog..and she's working on buying a parrot.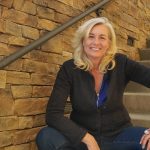 JoAnn Genette
Anchor Teammate
JoAnn Genette is a Chicago radio veteran, currently heard on AM 560 The Answer. JoAnn started her radio career in the early 1990s when reel to reel editing was done with a razor and tape. The majority of JoAnn's professional career has involved writing and delivering news at radio stations throughout Chicagoland, including at WKSC 103.5 KISS FM, FM News 101 Chicago, co-hosting a news talk format before moving onto the legendary 780 AM/105.9 FM WBBM. JoAnn is the mom to two teenagers, enjoys carnivals, amusement parks and live entertainment.

Bob Stephenson
Anchor Teammate
Bob began his radio career while in High School in central Florida. His travels have taken him to Chicago, Dallas, Phoenix, Sacramento, Orlando and a handful of other stops over the years. He is also an Actor and has appeared in several major Motion Pictures, Network TV programs and on Stage. In addition, he is a Voice Actor and Award-winning Audiobook Narrator. But his first love will always be Radio.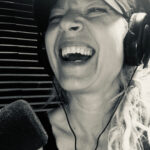 Morgan McCarthy
Anchor Teammate
Morgan is pretty lucky. She'll admit that right away. She gets to do what she loves every day and it somehow counts as "work!" But she also works hard to earn the right to keep doing that every day. Morgan didn't grow up wanting to be on the radio. The path was about as tangled as the cord on a pair of discarded headphones. The short version of a long story is that she grew up in the country and rolling hills of America's DairyLand, *hit Fast Forward* From Wisconsin, she flew the nest to Boston, MA and absorbed all the education and brownstone architecture that she could while attending Emerson College. Now, after some more miles down the scenic route (literally-including a roadtrip around the lower 48 states), she has returned to Wisconsin and is using her voice and Bachelor of Science in Speech degree every day on the airwaves of the Midwest Family radio stations in Eau Claire. Live, local radio is a passion for her in the role as News Director at the 715 Newsroom where she is committed to being a source of "News Done Differently." Here as part of the team at Remote News Service, Morgan extends her passion for broadcasting in an anchor role for various stations around the country, as well. That's on-mic. Off mic, it's family as a lifestyle, books as a pastime, nature as therapy, beer as a hobby, dogs as best friends....oh, and a little bit of adventure-and luck-along the way. Thanks for listening.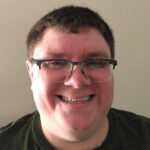 Brian White
Anchor Teammate
Brian has more than 20 years' experience reporting news, sports and traffic. A native of Cleveland, Ohio, Brian grew up in Raleigh, North Carolina and graduated from N.C. State University with a degree in English with a journalism concentration. He has wide experience in a diverse variety of formats, including traffic reporting, classical music, sports talk, and on-scene news and sports coverage. Brian has been a credentialed member of the NHL media since 2007, with a focus on the Carolina Hurricanes, and he volunteers extensively as a high school sports PA announcer and mentor for aspiring broadcasters. (He clearly has a habitual inability to say "no", which his wife will absolutely vouch for.) Brian lives outside Orlando, Florida, with his wife and daughter.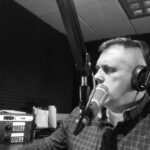 Daniel Leathers
Anchor Teammate
Daniel is a native of Tennessee and now calls Kentucky home. After serving in the US Army, he had a long and circuitous route to broadcasting. He has been host, co-host and editor on various podcasts. He spent several years as co-host of a live radio talk show centered on the outdoors. During that time, he worked as the News Director for a three station cluster in central Kentucky. He currently hosts a daily radio show as well as fill-in for morning show jocks when needed. He also gathers and reports news for multiple stations across the country.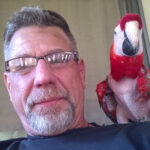 Scott McCormick
Anchor Teammate
Scott has worked over 3 decades in radio doing voice over work, commercial production and imaging. He's a Mercury Award winner, racetrack announcer, NASCAR announcer and Monster Truck announcer. He's also an NHRA Announcers Guild member. He's a fan of boating, birds, carpentry work and of course his lovely wife, Sarah.

Christal Blue
Anchor Teammate
Christal has been connecting with radio listeners since her career began in small town North Dakota in 2000. She spent 21 years on the air full time while raising her two children – one a successful video game designer in Austin, the other an aspiring New York actress. After a long career on five morning show ratings winners, and being a solo ratings success in almost every daypart, she stepped away from the mic in the summer of 2021. These days, she's enjoying the empty nest life with her husband Randy in Virginia, but continues some work from her home studio, podcasting, reporting news and voicing radio and TV commercials for clients across the country, including Minor League Baseball's Fredericksburg Nationals.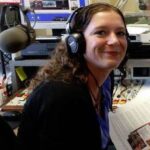 Sarah McCormick
Anchor Teammate
Sarah McCormick has been a broadcast journalist for over twenty years. She grew up in Metro Detroit where local radio shaped her ambition. She honed her skills at Northern Michigan College and earned her degree from American University in Washington, D.C. Her broadcasting career has taken her from the Midwest, to the East Coast, the Central Plains, the West Coast and back to Michigan, where she continues to report and produce news and engineer. Sarah and her husband are animal rescuers with two macaws and two German Shepherds. Along with her broadcasting husband, Sarah pursues audible excellence and adventure. Communication is her passion, and being a voice for rational journalism remains her primary goal.

Pam Kelly
Anchor Teammate
From Rock to Christian, Morning Drive to Overnights, and everything in between, Pam's done it all in her 30 years of "playing on the radio." Most of those years were spent as an on air personality in Houston, TX. Along the way she also delivered news and traffic for top Houston stations and took on Assistant Program Director duties. Pam is a member of The Texas Radio Hall of Fame - Class of 2022. Currently, in addition to delivering news for Remote News Service stations she is a Voice-Over talent and hosts the evening show on Third Rock Radio, the official radio station of NASA which is the only radio station played aboard the International Space Station…and around the globe for those closer to town. Pam is married and has a 15-year old son and takes care of her mom and two very spoiled dogs.

Travis started in radio at the age of 16 while a Junior in High School. After 7 years, it was off to Rockford Illinois for a morning show for more than 2 1/2 years which included reading news. Family brought him back to his hometown of La Crosse, Wisconsin where he's been ever since. Travis briefly did a stint in Madison, WI as a traffic reporter. Aside from radio and news, Travis also does commercial voice over for stations all over the Country. When not in radio, he enjoys camping, boating, golfing and bowling.